SPECIAL DESIGN OF DUAL ENERGY
PILOT FURNACE USING ELECTRICAL
RESISTANCE BATCH MELTING DEVICE
IN COMBINATION WITH GAS / AIR FIRED HOMOGENIZATION CHAMBER LEADING
TO A SINGLE TEST BUSHING.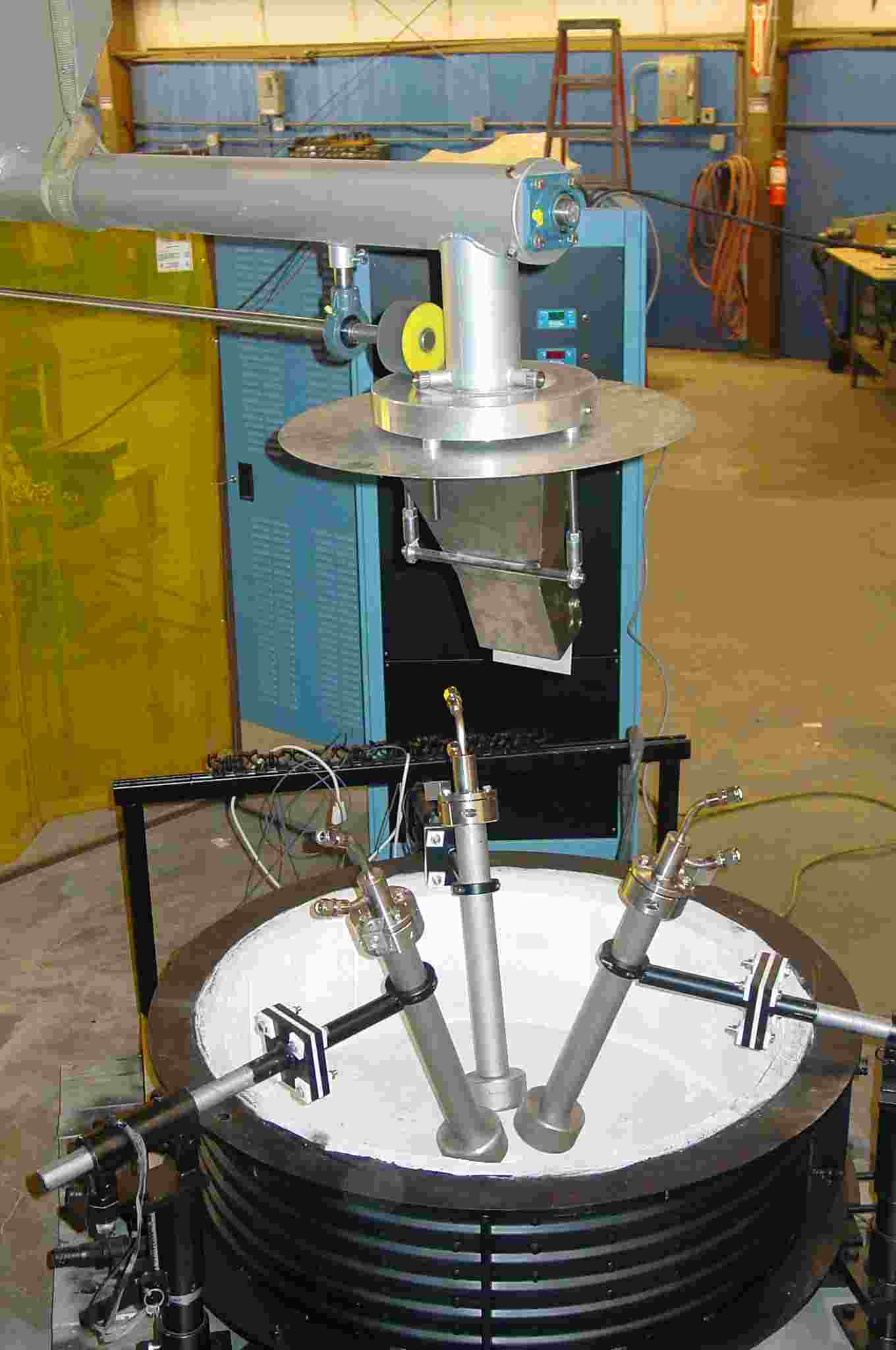 WATER COOLED ELECTRIC MELTER WITH COLD TOP
BATCH DISTRIBUTION UNIT. THIS UNIQUE SYSTEM
HAS BEEN USED TO MELT SPECIAL GLASSES SUCH
AS BASALT, "D" GLASS, "A" GLASS AND OF
COURSE "E" GLASS. THIS IS A VERY ECONOMICAL
SYSTEM FOR LOW BUDGET OPERATIONS.
SPECIAL MELTING SYSTEMS CUSTOM BUILT BY
GLASS STRAND
GLASS STRAND HAS DESIGNED AND BUILT MANY SMALL MELTING DEVICES FOR A NUMBER OF COMPANIES. THESE WERE DESIGNED FOR SPECIFIC USES AND COVERED THE FOLLOWING SPECTRUM:
| | |
| --- | --- |
| | DOUBLE-STAGE MARBLE MELTER / BUSHING FOR FINE FIBER PRODUCTS. |
| | GLASS MARBLE MELTING UNIT WITH REGENERATOR BURNERS FEEDING A FOUR BUSHING FOREHEARTH. |
| | GLASS MARBLE MELTING FURNACE SUPPLYING GLASS TO SEVERAL 4000 TIP BUSHINGS. |
| | GLASS MARBLE MELTING DEVICE SUPPLYING GLASS TO ONE BUSHING USING A COMBINATION OF AIR / GAS COMBUSTION AND DIRECT ELECTRICAL HEATING. |
| | COMBINATION OF A PARAMELTER BATCH MELTER AND REFRACTORY CHANNEL SUPPLYING GLASS TO ONE DIRECT MELT BUSHING USED FOR GLASS COMPOSITION RESEARCH. |
| | ALL ELECTRIC MELTERS USED FOR "D" GLASS, "E" GLASS AND BASALT GLASS. |
| | SMALL MELTER AND FIBERIZING DEVICE FOR "A" GLASS AIR FILTER MANUFACTURER. |